Easter, which is also celebrated as Pascha or Resurrection Sunday, is a cultural holiday and Christian festival in Portugal. This day is spent together with family and is especially significant for godparents and their godchildren.
The entire week, starting from Palm Sunday, is celebrated with processions and religious traditions. In 2023, Palm Sunday is April 2nd with Easter Sunday the following week on April 9th.
If you are traveling from UK to Portugal this Easter, there are certain things that you need to keep in mind and certain documents you should carry for a safe and hassle-free travel and endless enjoyment. We at Portugal Visa have you covered with all these essentials, read below for more details on your visit to Portugal from UK for Easter 2023.
Easter 2023: History of Easter Celebration in Portugal
Portuguese people are very devoted, which makes it understandable for this time of the year to be so sacred around here. The ones who are admittedly Catholic, live this time of the year very intensely. Most of the Easter celebrations and traditions are related to food.
Religious rituals in Portugal on Easter 2023
In Portugal, mainly in the rural villages, religious rituals and processions are common. Many Portuguese people start Easter Sunday by going to mass in the morning. The festivities and celebrations begin almost a week before Easter Sunday to pay tributes to their ancestors and godfathers.
Portuguese people make sure they attend church and only eat fish during Lent Time. On Easter Sunday, there is the blessing of lambs in which shepherds bring their flock to the centre of the town before they go and sell them.
Portugal Visa & Entry Requirements from UK: Checklist
Read below for a checklist to ensure that you carry all the essential documents when traveling to Portugal from UK:
Passport validity – Ensure that you fulfill the passport validity requirements as advised by the official authorities.
Visas – You must fill the application form and get access to your visa in time for your travel.
Passport Stamping – Get your passport stamping completed as per guidelines from official authorities.
Requirements for residents of Portugal – There are certain specific requirements for residents of Portugal which must be fulfilled.
A return or onward ticket (if required) – Keep your return or onward ticket to be furnished whenever required.
Proof of funds – You need to provide proof of funds that clarify you have enough finances for a comfortable and safe stay in Portugal.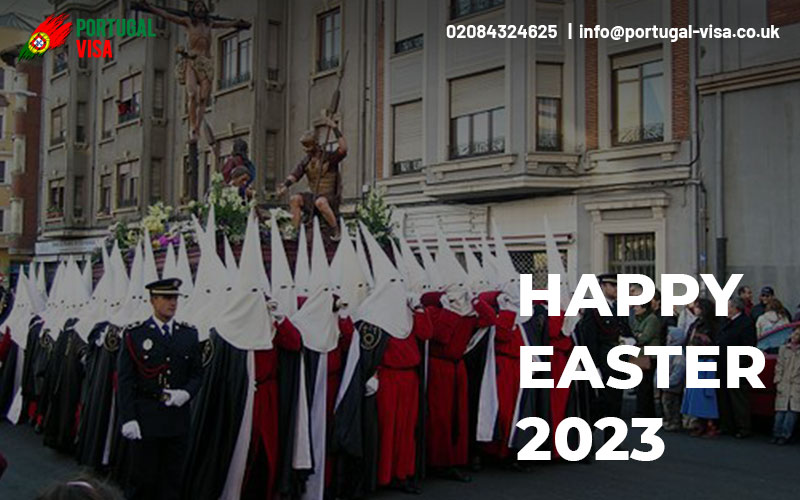 Portugal Visa Fee for UK Citizens
Visa Type

Consulate VISA FEE (IN GBP)

VFS Center Fee in GBP

Our Handling Charges In GBP

Total Online Payable

(VFS Fee + Our Charges)

Tourism/Visitor/

Family & Friends/Business

£69

£32

£217

£249

Family member of EEA/EU citizen

£0

£32

£217

£249

Long stay Single/Multiple Entry

£77

£32

£217

£249

Children between 6 and 12 years old

£34

£32

£217

£249

Children less than 6 years old

£0

£32

£217

£249
Portugal Visa application documents and requirements for UK residents
Fill your Portugal Visa Application Form with due care and consideration, as errors may cause the application to be rendered invalid by the Embassy/Consulate. Below is the list of required documents with specific instructions for your vfs Portugal Visa from UK.
A valid passport or travel document: Travelers must ensure the following:
Their passport must have been issued within the previous 10 years
Their passport had 2 full blank pages, one of which is for the visa stamp and the other as an additional spare page
Their passport will be valid for at least months after the date they exit the Schengen Area
A valid UK residence permit or another form of Identity Card: For this the travelers must ensure:
Their UK residence permit must be endorsed in the actual passport. Or it should be endorsed on a new biometric ID
The UK residence permit must be valid for at least another three more months beyond the date the traveler plans to leave Portugal
One application form: Duly filled application form with the travelers signature must be in possession of the traveler
One passport format photo: The photograph must have a light background, and shows full facial features. The photos must be less than three months old and be glued to the application form. If you staple the photograph on the application form then it will surely be rejected
The Supporting documentation required for a Portugal Schengen Visa Application is as follows:
Proof of current occupation
Employment letter (In original)
Student letter (In original)
Proof of accommodation and proof of funds are some other requirements that you might be required to furnish at the time of application.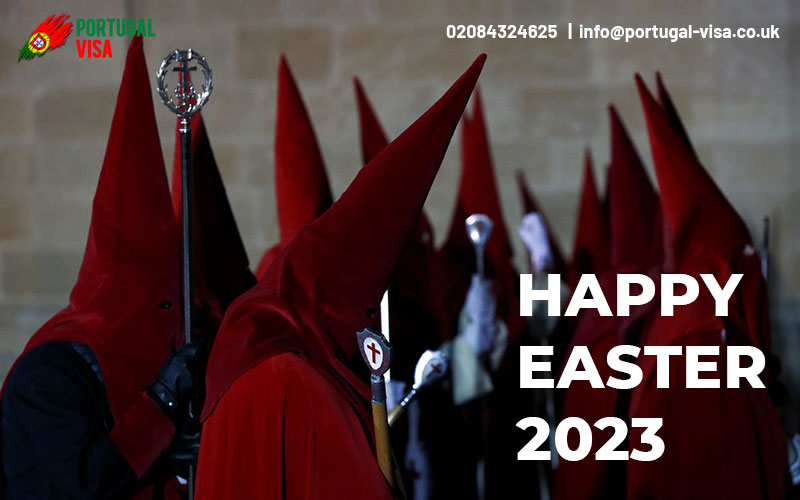 What to keep in mind when traveling to Portugal from UK?
When traveling to an foreign country, or even your own from some foreign country there are certain things that you need to keep in mind. These can be compliance, advisories, weather conditions, entry requirements and so on.
For entry to Portugal from UK we are listing below some of the things that you should not skip considering when visiting the country for Easter 2023.
Carry walking shoes with a good grip for yourself – Portugal is one of the most walkable European countries and exploring on foot is usually the best way to see the highlights, this is the best way to stay comfortable throughout your tour.
To skip crows visit off-season – Portugal is a favorite travel destination, hence it is crowded mostly during the travel season. To explore the place in its true and raw form it is best to visit Portugal from UK during off-season.
Ensure you opt for cash in most cases – Unlike other countries on the globe, Portugal is not very credit card or digital payment friendly. So to satisfy all your purchasing and exploring needs you must carry cash with yourself.
Service tip is easiest here – Be it for an awesome cab driver, or restaurant service you would always want to tip. The best way to do this in Portugal is to round off your bill and mention the extra as the tip. If your round off amount is too less, then in that case you may pay 1 to 2 euros.
Must try fresh seafood – Portugal's long coastline makes for next-level seafood so be sure to try the local specialty of each place you visit.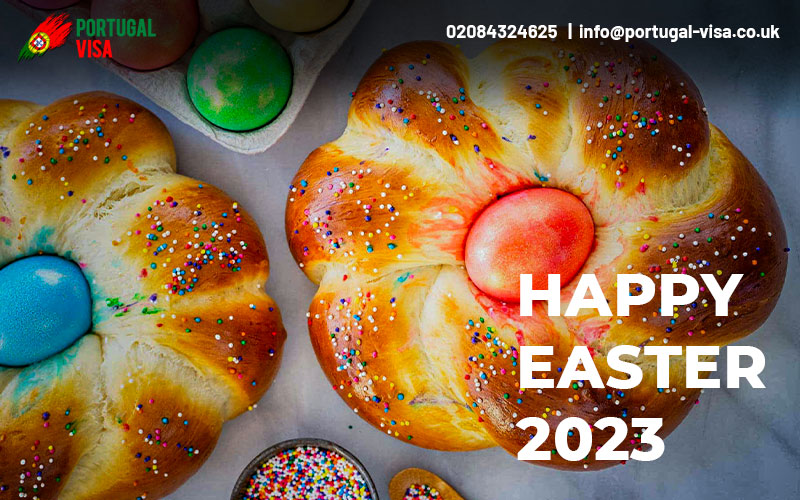 For more information on your Portugal visit from UK during Easter 2023 and visa assistance you can contact our expert team at Portugal visa. We have years of experience in handling all sorts of issues and requirements related to visa and entry into Portugal from UK and vice versa.
FAQs
Does Portugal shut down for Easter?
It is a day off for the general population, and schools and most businesses are closed.
What is the Portuguese tradition for Easter?
Easter in Portugal Traditions include the "folar" (easter bread) and sponge cake (recipe). Easter in Portugal is spent together with family and is especially significant for godparents and their godchildren.
Where is the best place in Portugal for Easter celebrations?
Braga is where the most well-known and authentic Semana Santa events take place in Portugal and visiting this city is sure to be a highlight.
Related Post: https://www.portugal-visa.co.uk/blog/easter-2022-in-portugal-traditions-and-celebrations/
What do I need to know before traveling to Portugal?
There are a lot of things you need to know before traveling to Portugal. Some of these have been listed here for you.

Will Portugal allow tourists from UK?
Yes, tourists from UK are welcomed in Portugal at any time of the year. Although Easter is when most tourists from UK visit Portugal, we suggest you visit the country during off-season for more enjoyment and fun.
What documents do I need for Portugal from UK?
The mandatory documents for Portugal visit from UK include your valid visa and passport. For more details on the same and to apply for your Portugal visa you can contact us at: .
What month is best to go to Portugal?
The best time to visit Portugal is in spring (March-May), when the country is in bloom and waking after the winter.
Is Portugal busy during Easter holidays?
Easter is the busiest period, with crowds of tourists visiting from neighboring Spain and elsewhere in Europe, and accommodation prices increase slightly.
How many days is enough to see Portugal?
Any Portugal travel itinerary should be a minimum of seven days long to ensure you can immerse yourself in the local culture, customs, and traditions.
What is the tourist season in Portugal?
Like many places in Europe, July and August are the peak tourist season in Portugal. August, in particular, is very busy due to the fact that it's Portugal's holiday month.