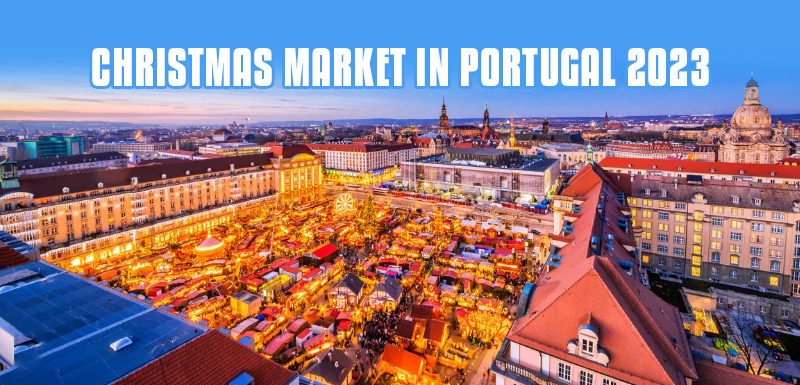 Are you planning to go to Portugal in December? Would you like to visit the best Christmas market in Portugal? What are the best markets for shopping? Where to spend your holidays this year, Lisbon or Porto?
As the Christmas season approaches there is something truly magical about experiencing it in a new country. Portugal with its rich cultural heritage and warm hospitality offers an enchanting experience for festive celebration. This year, the Christmas market in Portugal 2023 promises to be an unforgettable experience for both locals and visitors.
Everything you need to know about celebrating Christmas and visiting Portugal for best shopping experience.
Christmas Market: A Festive Guide
Portugal might not be the first destination that comes to your mind when you think about Christmas markets but let me tell you that this sunny country has amazingly beautiful things to offer during Christmas. From Lisbon to Porto you will surely find a lot of charming and lively markets that sell traditional crafts, delicious food and unique gifts for your loved ones.
This is not it, you will also enjoy the fascinating decorations, rich culture of Portugal and its pleasing warm weather. So let's discuss about the best Christmas market in Portugal 2023 and also give you some tips on how you should plan your trip and get your visa.
Lisbon Christmas Market
Lisbon is the capital of Portugal and besides that it is extremely vibrant and cosmopolitan city which celebrates Christmas in style. You will be spoilt with choices for Christmas market 2023 in Lisbon as each market has its own attractions and character. So let me tell you about some of the most popular ones that are going to spellbind you this year: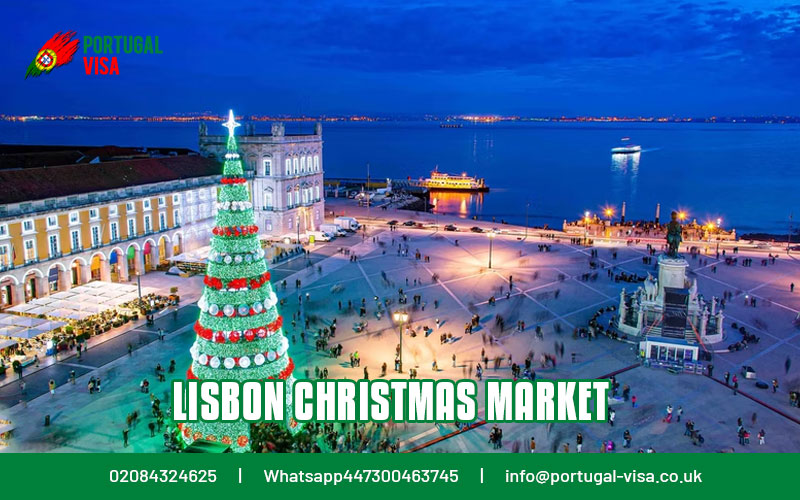 Wonderland Lisboa–This is the one of the most exciting and largest Lisbon Christmas market which you can find in Parque Eduardo VII. Exciting things that it features include ice-skating rink, Ferris wheel, house of Santa and several different stalls that sell handicrafts, jewelry and delicious pastries. You can also enjoy live shows here and entertainment for all age groups in available here.
Campo Pequeno – It is an indoor Christmas market which generally takes place at a historic bullring. More than 100 exhibitors sell books, toys, food, clothing and several other things which are displayed here. You also get this amazing change of participating in workshops as well as activities for children and adults are also available.
Rossio Square–This traditional Christmas market takes place in the heart of Lisbon. It displays a spectacular Christmas tree, nativity scene and several wooden chalets that sell gifts and regional specialties. You can also admire the stunning architecture and monuments around the square.
Natalis– Natalis is a trade fair which happens at Feira International de Lisboa. You will find a wide range of products and services here such as fireworks, costumes, decorations and catering services. Creative and sustainable gifts are going to be the major attraction of Christmas market in Portugal 2023.
Porto Christmas Market
Porto is famously known as the second largest city in Portugal. It is a charming and historic city that has numerous UNESCO world heritage sites. Christmas markets here will offer some of the best local products, art and culture. Here are some of the most popular ones: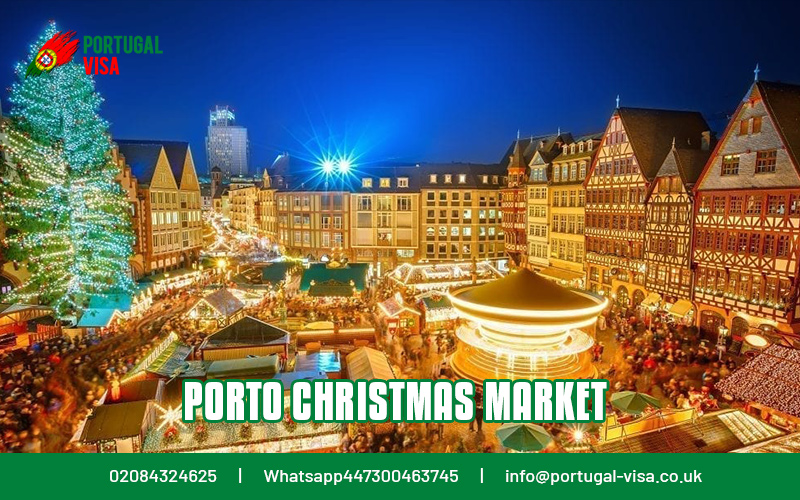 Mercado da Alegria–Stunningly joyful Porto Christmas market which takes place at Praça da Batalha. Almost 40 vendors sell handmade crafts, jewelry, various outfits and distinct cuisines here. You can also enjoy street entertainment and performances on weekends over here.
Porto Arts and Crafts Fair–It is an artistic Christmas market which goes down along with Avenida Dom Afonso Henriques. Local artisans sell ceramic and stone crafts, homemade liqueurs and other unique items here.This market is organized by the Santa Clara Association.
Fundação de Serralves Christmas Market–This Christmas market is famous for its eco-friendly nature which takes place at the Serralves Foundation. You fill find numerous gourmet products, organic and seasonal foods, creative gifts and items that inspire a more sustainable lifestyle. Activities and workshops are also available here for the whole family.
Where to Spend Christmas in Portugal?
You have plenty of options to choose from if you want to explore other destinations as well in Portugal besides Lisbon and Porto during Christmas time. Here are some of the best places to spend Christmas in Portugal this year:
Obidos – This adorable medieval town transforms into a magical Christmas village during December. You will find a live a live nativity scene here, an ice bar, ice-skating rink, Santa's farm and different stalls that sell crafts and food. You can also visit the famous castle and walls of Óbidos.
Bragança–This Historical city exceptionally combines modernity with tradition. You can visit the medieval castle and Domus Municipal is and also enjoy the Land of Christmas and Dreams. You will find festive food and treats as well as entertainment for children at this event.
Santa Maria da Feira–This town hosts Perlim which is one of the biggest Christmas attractions in Portugal. It is a theme park dedicated to Christmas with rides, shows, games, workshops and much more. You can also visit the castle of Santa Maria da Feirah here.
Alentejo–If you are looking for peaceful and relaxing Christmas market in Portugal 2023 simply head to Alentejo. You are sure to enjoy the rural scenery, lip-smacking cuisine, wine and hospitability of this region. Apart from Christmas market you can also explore the charming town and villages of this area.
To simply focus on creating cherished memories with your loved ones you will need guidance and support for obtaining a visa from experts.
So, if you are considering visiting Portugal this Christmas season, it is highly important to plan ahead. Securing the necessary travel documents including Portugal Visa Appointment Manchester UK is a crucial step in ensuring a smooth and memorable Christmas trip.
Embark on your Portuguese adventure by getting in touch with the experts today!

Frequently Asked Questions
What are Steps to Apply for a Portugal Schengen Visa?
Fill Application Form
Safe Online Payment
Next day Appointment
Visit Visa Centre
Submit Documents & Biometrics
Receive Visa Directly Through VFS
What are the documents required for Portugal Schengen Visa?
The applicants residing in the UK and planning to visit Portugal to celebrate Christmas need the following documents in order to get their visa application approved.
Passport Size Photo
Valid passport
UK Residence Permit
Previous passport copies (IF ANY)
Cover letter
Proof of accommodation
Flight reservation proof (Return tickets as well)
Financial Proof (Employed, Self-Employed or unemployed)
Travel Insurance
Authorized Invitation letter (If invited to Portugal by a friend, family member or organization)
Do I need to schedule an appointment to get my Portugal visa?
Yes, if you want a Portugal visa from UK you must book an appointment at the VFS visa centre.

Our team can help you get express next day appointment which is not available generally at VFS Center.
What is the validity of a Portugal visa?
Validity depends on several factors like whether you are applying for the first time or you already had multiple Schengen visas in the past. Portugal generally gives visa for 3 months to 2 years or even more but maximum time that you can stay will be 90 days in single trip.
How much will it cost to book an appointment for Portugal Visa?
We at Portugal visa charge you a nominal service fee of £249 which includes our charges plus the VFS charges to book appointment on your behalf in 24 hours which is generally not possible to get so quickly with anyone else or by yourself as slots are full all the times.