Do sparkling Christmas lights and beautifully-decorated Christmas markets fascinate you? Looking for the best places to celebrate Christmas and New Year's Eve in Portugal 2020?
If yes, visit Portugal at Christmas and New Year's Eve and enjoy the best time of your life! Apply for Portugal Visa UK and fly to this beautiful country to celebrate the most amusing Christmas and New Year 2020.
Enjoy Christmas Lights and Christmas Markets in Portugal
Here's everything you should know about Portugal Christmas markets, Christmas lights, Christmas and New Year's Eve in Portugal 2020.
Portugal Christmas Lights
Portugal Christmas Lights will be shimmering in the city center from November 30th and there will be additional lit locations this year. With 80+ buildings, gardens, and streets beautifully decorated with sparkling lights, you won't be able to resist taking a walk around the city and capture the Portugal Christmas Lights in your camera.
A 30 m high and 12 m diameter Portugal's Christmas tree at Avenida dos Aliados in front of the city hall attracts millions of visitors each year. This year you will witness the Christmas tree lit with bulbs wrapped in red, blue, white, and green.
Enjoy the whole day, with live music from 3.30 pm, make sure to be at Av. Aliados at 6.00 pm for the mesmerizing fireworks, tree lighting, and attend video mapping show!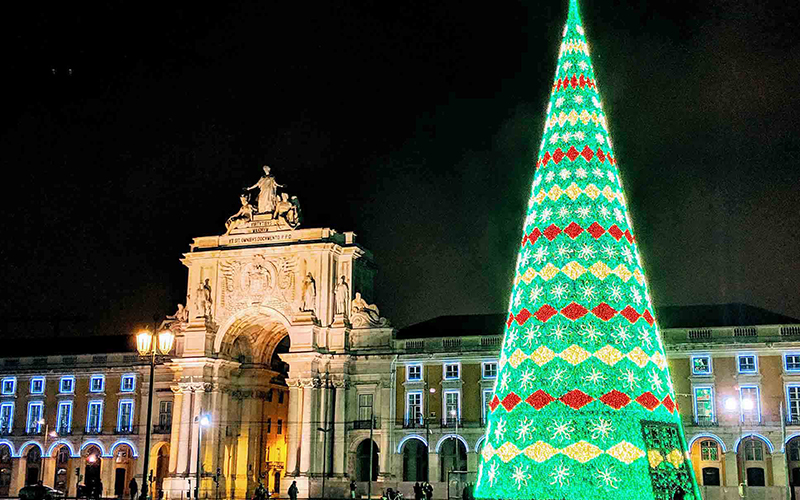 There's good news for travelers who somehow missed to reach Portugal during Christmas time- Christmas Lights will be gleaming until 6th January, the Three Kings Day.
Portugal Christmas Markets
Visit Portugal Christmas Markets after sunset to explore the perfect Christmas gift for your closed ones. You may visit the popular Christmas markets such as Mercado da Alegria, Feira Artesanatus Porto, Handicraft and Trade Fair of Porto, Porto Christmas Urban Market to explore a wide range of traditional and contemporary crafts made with true care.
Please confirm the timings before going.
Enjoy New Year's Eve in Portugal
New Year's Eve celebration in Portugal is one of the best decisions you have ever made!  Watching the mesmerizing fireworks over Douro River from the Vila Nova de Gaia side or Porto side will be a memorable experience. At midnight, the skies of the city will be illuminated with beautiful colors to welcome the brand New year.
You may also enjoy the public festivities in the streets, New Year cruise in Douro River; have great dinner in restaurants like Maus Habitos, daTerra for veggies, Em Carne Viva, or éLeBê Baixa among others!
The Portuguese way to welcome the New Year is by eating 12 raisins making a wish for each one for each month. Choose the color of your knickers with care, the one you wear on New Year's Eve. Depending on what you wish most for the coming year, select your knickers color:
Red color for love and passion
Yellow color for lots of good luck and prosperity
Blue color for good health
White color for happiness and peace
Avoid Black, it might bring bad luck!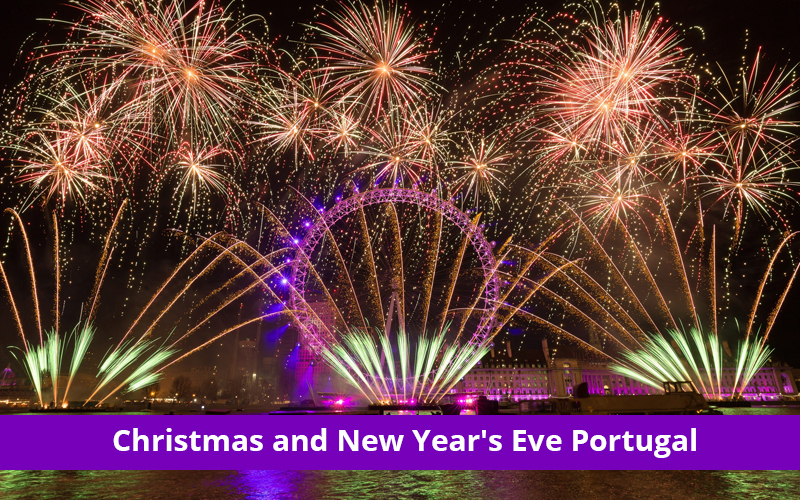 So finally you've decided to celebrate Christmas and New Year's Eve in Portugal 2020? Apply for a Portugal Visa and arrange accommodations before it's too late!