Each island of Azores has its own charm and appeal. If you wish to visit them all then you will require at a month to go through all of them. Pico island is basically the second-largest island in Azores, and nicknamed "grey island" because it's the most volcanic and basalt- of them all. In this blog you will get to know about different things to do in Pico Island.
What is the best time to visit Pico Island?
If you talk according to the weather, then the months from May to September are the best ones to visit the Pico islands. However there are two things you should keep in mind:
Firstly, Azores are very well-known for their ever-changing weather. As a tourist you will get to know that you can experience all the four seasons in just one day. This becomes more likely in an island with a dramatic mountain landscape like the Pico islands. Therefore for the entire duration of your trip, you may get lucky with 100% sunny days or heavy rainfall days or anything in between them.
Secondly, deciding the best time to visit the Azores is much more than just looking at the good weather. It eventually comes down on your interests and the activities you want to try. Whale-watching is big in Pico so you might want to look at the March-May period, where the most whale species can be spotted along the coast.
What to do in Pico Island?
Making it simple for you, there are three things you can't miss in Pico Island: The mountains, wine and whales.
Montanha do Pico (Mount Pico)
Mount Pico dominates the entire landscape of the island and it deserves to be visited. It's the first thing you see while arriving and the last thing you see.
Hiking Mount Pico is highly recommended. It's an authentic geology field trip and the views from up there over the ocean and nearby islands are gorgeous if the weather permits you.
Vineyards
One of the most polarizing landscape views you can see in Pico are the vineyards. Right next to the airport, it's impossible to miss the huge pattern of black lava rock walls built to protect the vines from wind and seawater, these are called currais. It's a stunning contrast to the azure Atlantic Ocean and the lush green meadows.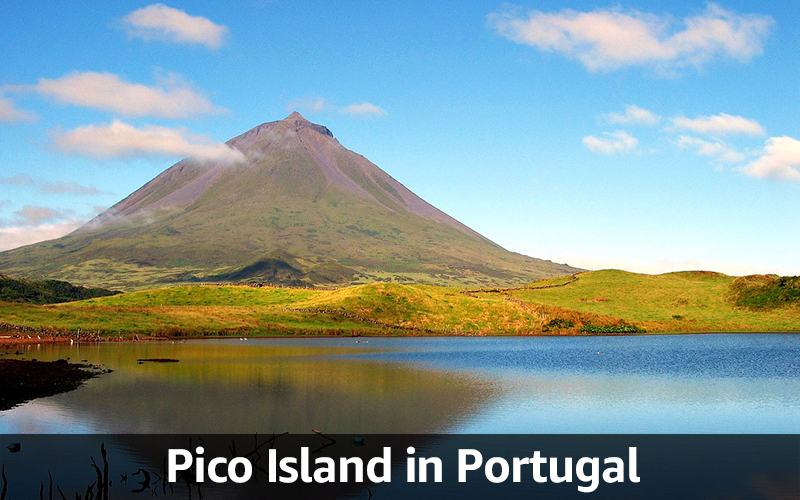 In 2004, UNESCO considered Pico vineyards a World Heritage Site. Wine Museum (Museu Do Vinho) is a scenic spot to learn more about the wine culture.
Whale Watching
Basically Whale hunting started in Pico Island in the 18th Century, the time when American whalemen came specifically to the Azores to hunt for sperm whales. By the 40s and 50s, a whole industry rose and played a key role in the rising economy of Pico Island, particularly in the area of Sao Roque Do Pico. The workers over there hunted and processed whales to producing flour and oils.
This discarding activity was finally forbidden in the year of 1986 and the industry switched from Whale hunting to Whale watching.
Therefore as one of the best places for spotting whales worldwide, this is a must to do in Pico Island. We also have a pro tip for you that is between April and October, the chances of sights of whales and dolphins increase to high expectations.
Other than this there are many other things in terms of food and places to stay that you can visit while your trip to Pico Island and these would be counted in the must things to do in Pico islands. However first of all you will have to apply for Portugal visa so that you can enjoy your trip easily.