The enchanting country of Portugal is readying itself to celebrate New Year's Eve in Lisbon with pomp and flair.
With an array of exciting events, mouth-watering food, beautiful decorations and popular attractions, any holidaymaker or tourist will be spoilt for choice. That is why we have curated a brief guide that will showcase the best New Year's Eve experiences that you can have in Portugal.
So, sit back and enjoy this small read which might just nudge you to get a Visa for Portugal and visit Portugal to celebrate New Year's Eve with loved ones.
Well-Known Traditions of New Year's Eve in Lisbon
Lisbon's locals do have some interesting traditions when it comes to celebrating New Year's Eve.
Did you know? According to a popular tradition, if you carry some coins in your pocket on New Year's Eve, it brings good luck. So, make sure to carry some change with you when you visit Lisbon.
Another interesting tradition is eating 12 raisins and making 12 wishes on the night of New Year's Eve. Why 12 raisins?
Because each raisin represents a single month. Try doing this tradition with your family members where all the raisins are kept in a single bowl because that's how the locals do it!
Things to do on New Year's Eve in Lisbon 2021-2022
New Year's Eve Fireworks in Lisbon
Portugal New Year's festivities are incomplete with a brilliant display of fireworks & colors. Various cities of Portugal feature different kinds of fireworks and Lisbon is one of the most popular among them.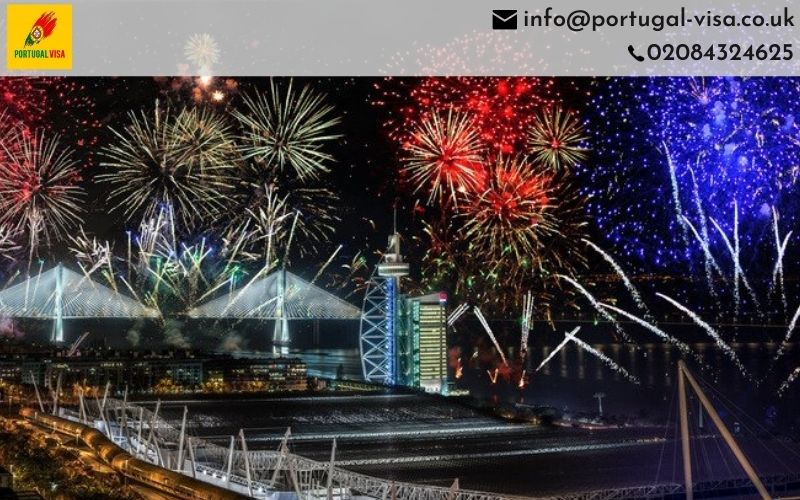 Make sure to reach some good viewing points so that you get the best views of fireworks!
Raise a Toast on a Cruise this New Year's Eve!
If you want to lavishly welcome the New Year in Lisbon then there is no better way to do it than enjoying a lip-smacking wine on a cruise.
Many entertainment service providers and vendors offer cruise packages that you can go for. Just imagine you and your loved ones sailing over calm waters, watching mesmerizing fireworks as you sip some high-quality wine!
Relish Fine Dining Experiences
If you are someone who loves food then Lisbon won't disappoint you!
Lisbon is well-known for its traditional culinary delights which mostly include seafood. In addition to that, you can enjoy some nice traditional music (fado) or try some wild like going for restaurants that offer creative menus curated by internationally renowned chefs!
Exciting Events to Take Part in on Lisbon New Years Eve 2022
Here are a few amazing events that are lined up for tourists and sybarites during New Year's Eve. There are a lot of events & parties so you might be spoilt for choice. Choose an event that fits your choice and welcome New Year in style:
Royal Palace 2021/2022 – Parque Eduardo VII
Odisseia NYE
Welcome 2022
Revéllion / New Year's Eve – 2021/2022
Arroz Ciao Ciao: Novo Ano / New Year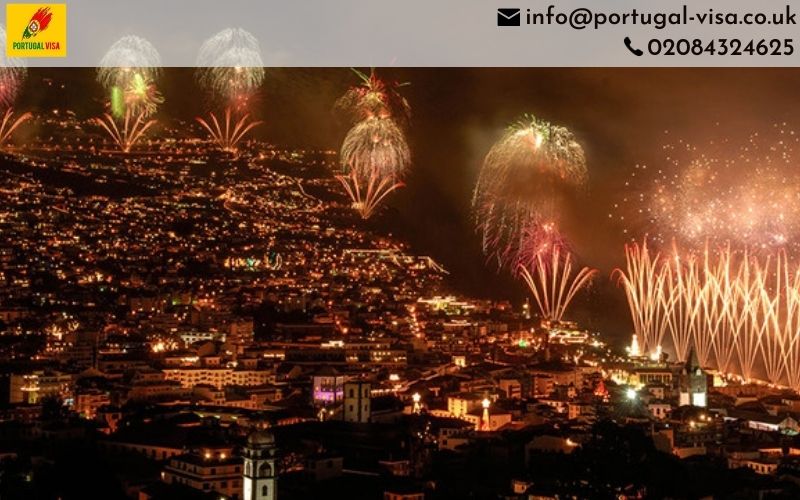 While some of these events are hosted in pubs, others offer a nice ambience and mouth-watering delights. So, what are you waiting for? Apply for a Portugal Visa UK and head over to Lisbon to welcome New Year with pomp and flair!