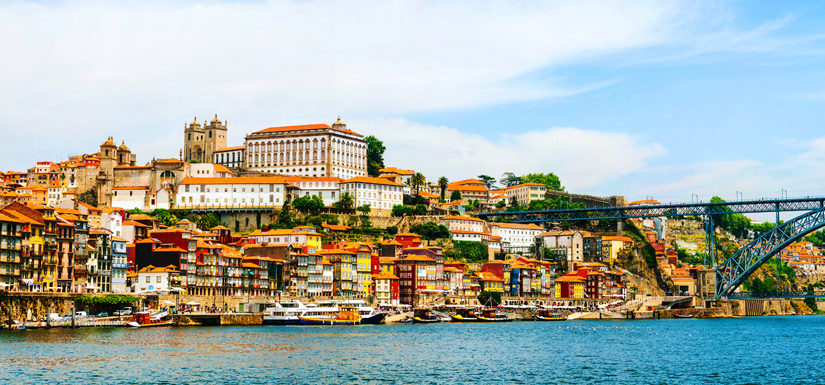 Located on the South-western coast of the Iberian Island, Portugal shares border with Atlantic Ocean on the West and Spain to its North and East. It ranks among one of the most visited countries in Europe due to its blissful climate, astounding sceneries, fascinating history, reasonable travel costs and extraordinary attractions.
Portugal is a captivating country with varied geographical definitions ranging from verdant blooming mountains and vineyards to medieval farmland villages and charismatic beaches of the Algrave. The archipelagos of Azores and Madeira lying in the Atlantic Ocean belong to Portugal and are renowned for their lavish landscapes & flower yards. The traditional fishing villages overlook flawless beaches along the sea-shore, while in the cities; historic famed regions exist with the ultra-modern zones.
Portugal may be a small country in terms of geographical definitions; however tourism in Portugal has been voyaging on a wave of success. People are looking for ways to get Portugal Visa UK to this seraphic destination. Apply for Portugal Visa today using our expedited online services.
Here is an overview to some of the best places that you may visit in Portugal on your Portugal Tourist Visa.
1. Coimbra:
Coimbra is a charming city located in the heart of Portugal, by the Mondego River. This ancient university town is an intriguing blend of Roman and medieval ruins, historic sites & beautiful gardens. Coimbra is renowned for lively culture and country's second popular music genre, Fado. The Ancient University of Coimbra is amongst one of the most visited tourist attractions that is classical, continually-working & degree-seeking institution of the world.
These attractions share a part of their fame with the Baroque-styled Biblioteca Joanina library admired as one of the most beautiful libraries of the world. You can simply indulge & discover many other historic sites such as Stunning Old Cathedral, Gothic Monastery of Sanat Clara-a-Velha, the Sala das Armas, and the Sala dos Capelos. So, what are you waiting for? Grab Portugal Visa UK and embark on a fascinating & enchanting journey to Portugal.
2. Azores:
The Archipelagos of the Azores are a group of nine distinct volcanic islands in North Atlantic Ocean, located around 1500 km west of Lisbon. Each island on Azores has its own intriguing identity. The islands are renowned for phenomenal whale-watching, insanely green hills and meadows, lush vegetation, hot springs & picturesque seaside towns.
São Miguel, nicknamed as "The Green Island", is the largest & most populous island of the Azores. The island is a home to 160,000 inhabitants & holds the largest city of the archipelago named Ponta Delgada.
The Pico Island of this volcanic archipelago is also referred to as "Black Island" for its black volcanic topography. Pico is home to the highest mountain peak in Portugal, known as Ponta do Pico. There's a tremendous potential in terms of activities to feed your adventurous side. You can go on trekking, sink your toes in the sand, swim in the wild Atlantic & relish a drink from Pico's classic vineyard industry.
The island of Azores were once uninhabited; however this volcanic archipelago now attracts thousands of tourists every year. It has also been crowned as one of the most sustainable destinations in the world.
Portugal is blessed with alluring & stimulating crowd-pleasers and has progressive attitudes with liberal & innovator thinking, flamboyant nightlife. It is clear that they have kept their roots grounded.
Portugal is indeed a traveler's paradise & a perfect spot for family holiday vacation. Apply for Portugal Visa today and head to this angelic destination.