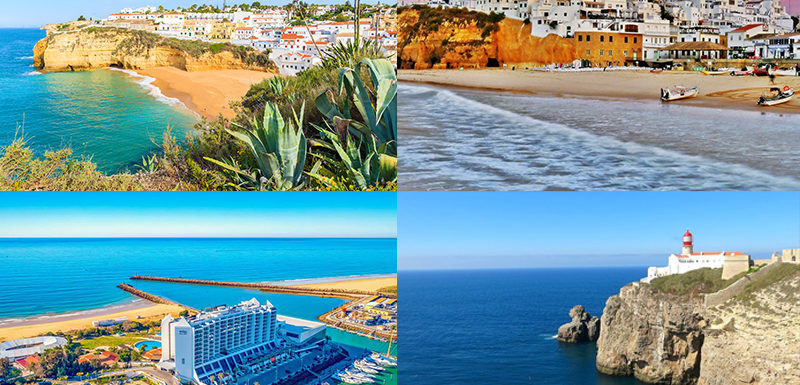 Portugal is one of the most sought-after tourist destinations on the planet. Faro District, in particular, is an alluring tourist destination for sybarites and travellers. Faro District Tourism offers a plethora of spell-binding locations to captivate you and your loved ones.
Faro is the capital city of Algarve and is primarily a coastal town. Delectable seafood, serene beaches and beautiful restaurants welcome you as you visit this enchanting place. In addition to that, there is a beautiful lagoon with intertwined waterways between the islands. You can explore exotic & diverse birdlife on the natural park of Ria Formosa.
Popular places like Lagos, Sagres, Carvoeiro, Albufeira & Vilamoura of Portugal are some of the must-visit places to relish an amazing vacation. So, apply for Portugal visa and explore the hidden gems of Faro District with your loved ones.
5 Astounding locations of Faro District Tourism
Faro district comprises of 16 municipalities. This means that Faro District Tourism offers a wide range of places for tourists and sybarites. However, there are 5 captivating tourist destinations to offer you a memorable experience. These destinations are
Lagos, Portugal – Bustling Coastal Town
The lively coastal town of Lagos, Portugal boasts of sandy bays, enthralling walkways, and beautiful coves fenced by colorful cliffs. You can also explore the old town while relishing a delectable lunch or dinner in roadside cafes or restaurants. Lagos is primarily known for picturesque coves and beautiful beaches. That means you can enjoy various types of seafood with Family or friends.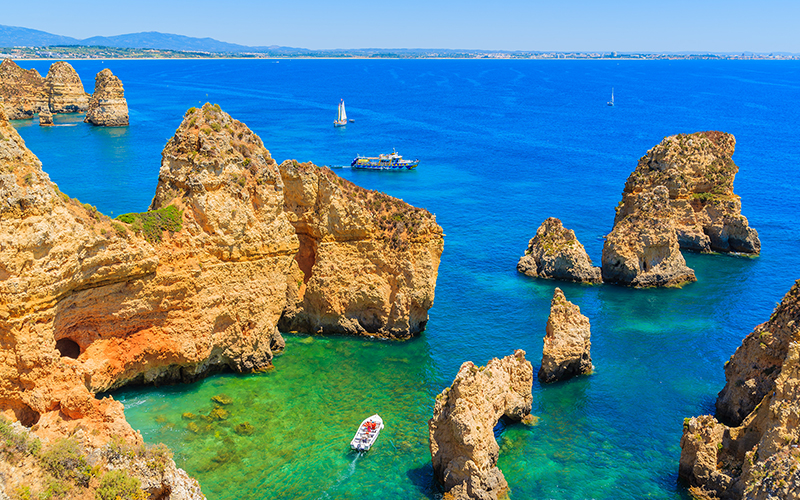 Must-try things in Lagos, Portugal:
Visit Ponta da Piedade to enjoy scenic views of cliffs & stacks of colorful limestone.
Head over to Praia do Camilo to witness fantastic coves or stroll through natural tunnels
Visit Zoo de Lagos to discover over 350 species of birds
Carvoeiro, Portugal – Picturesque Resort Town
The traditional resort town of Carvoeiro, Portugal is a must-visit destination offered by Faro District Tourism. This beautiful place promises historic towns, hiking trails, riveting boat tours and sun-kissed beaches. Carvoeiro is an intriguing concoction of modern holiday services & Portuguese legacy.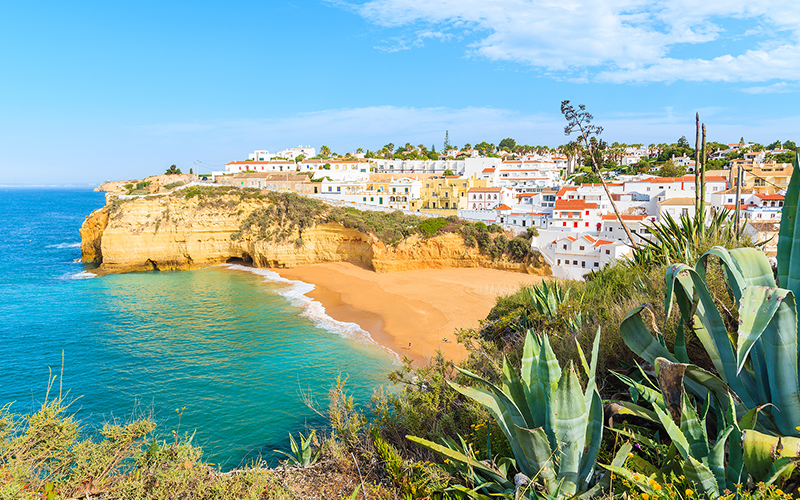 Awesome Things to do in Carvoeiro, Portugal:
Stroll along the Carvoeiro Boardwalk with your better half for a romantic evening
Avail a boat tour to discover the natural wonder of Benagil cave.
Visit the Algar Seco Caves with family or friends.
Albufeira, Portugal –  Vibrant Town
The town of Albufeira, Portugal is considered as the liveliest resort town in all of Algarve and is the pride of  Faro District Tourism. This town offers a perfect climate, splendid beaches, bustling nightlife & a variety of local cuisine. Albufeira has transformed into one of the most in-demand tourist destinations of Algarve due to its attractions, affordable accommodations & a plethora of thrilling activities.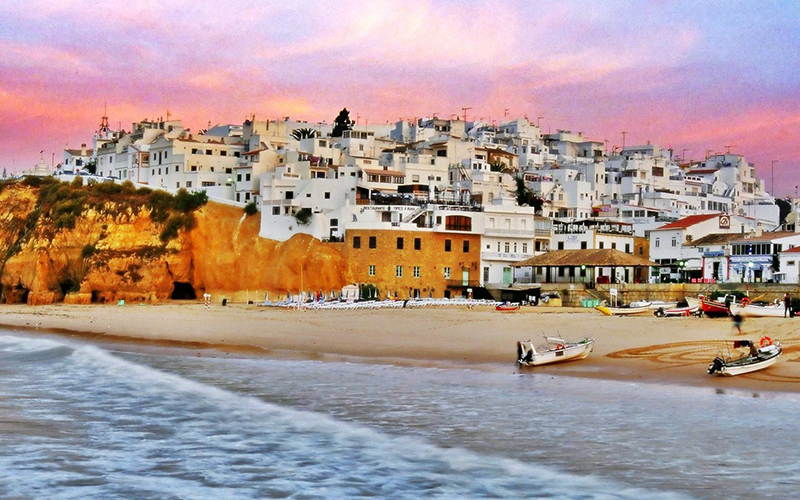 Exciting Things to do in Albufeira, Portugal:
Visit the 6-kilometre long beach of Praia da Falésia.
If you prefer a more secluded beach, then head over to Praia de São Rafael
Stroll through the meandering streets of Old Albufeira.
Vilamoura, Portugal – Modern Tourist Destination
The resort of Vilamoura, Portugal offers stunning golf courses, gourmet restaurants, marina complex and much more. Vilamoura was originally constructed in the 1980s as a Golfing spot but was later converted into a full-fledged tourist destination. With modern tourist facilities and lavish accommodation, this exotic location of Faro District Tourism is a must-visit place for an enjoyable vacation.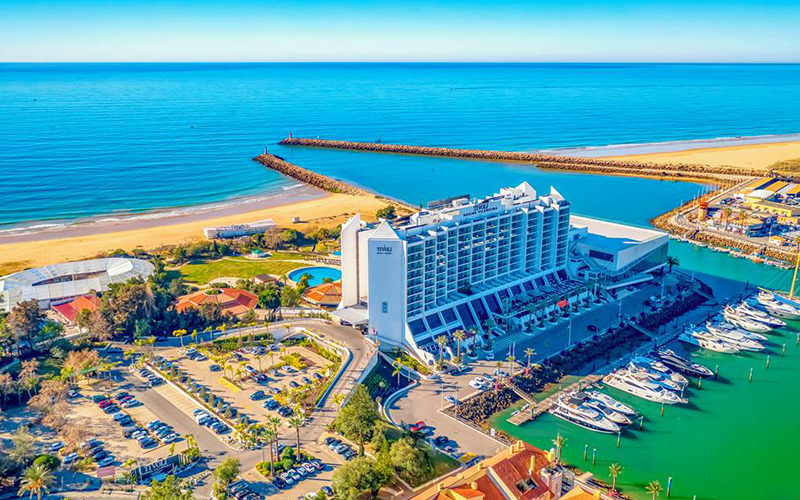 Great things to do in Vilamoura, Portugal:
Avail the Dolphin Safari & Cave Tour for an unforgettable experience.
Golf to your heart's content in a plethora of Golf courses.
Hire a private yacht for a relaxing experience on the sea.
Sagres Portugal – Serene Beaches
The unruffled town of Sagres, Portugal is an offbeat tourist spot offered by Faro District Tourism. It is located near the southwestern tip of Portugal and offers affordable accommodation, local cuisine and calm beaches. Sagres is popular among surfers as the Atlantic waves are easy to surf on. If you prefer a relaxing yet affordable getaway then Sagres is the perfect choice.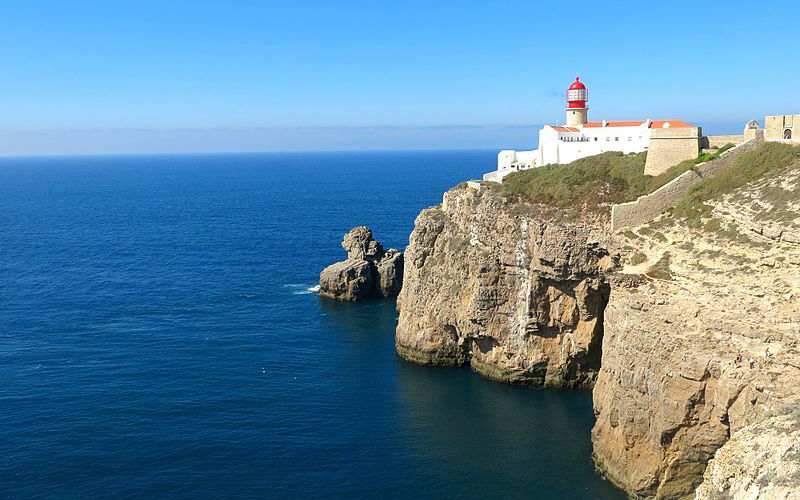 Cool things to try in Sagres, Portugal:
Visit the renowned Praia da Mareta beach to relax and rejuvenate.
Head over to Hang Ten to avail affordable surfing classes and surf to your heart's content
Pay a visit to Cabo de Sao Vicente and witness panoramic views of the Ocean.
Thus, these are the 5 hand-picked destinations of Faro district to enjoy a memorable vacation. There are many other hidden gems offered by Faro District Tourism.  So, Get a Visa for Portugal & embark on an epic journey to Faro District and make memories for life.