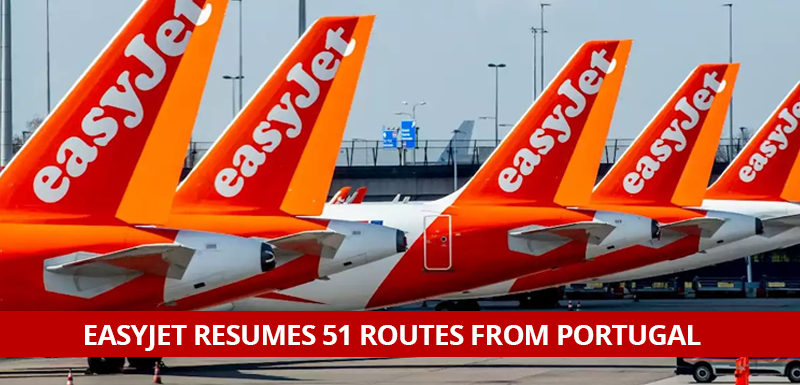 Easy Jet flight are reopening, a return to "normal", It's official, on June 15, the EasyJets airline company is now flying 51 routes in and out of Portugal. Indeed,  EasyJet resumes 51 routes from Portugal on 63  of Portugal's four main airports (Lisbon, Oporto, Faro and Funchal) have started flying allowing foreign tourists and Portuguese to fly.
Since the beginning of the health crisis, the air sector has been at a standstill. The financial situation and future of some low-cost airlines was more than unclear. However, the situation in the European Union seems to be moving and the barriers restricting travel are being lifted more and more. As EasyJets flights reopening,  travelers will be able to come to Portugal while buying their ticket at an affordable price.
A reopening that is not without risk
However, Covid-19 obliges, the gestures barriers will be put in place not to endanger the lives of employees, or even those of passengers, wearing the mandatory mask and disinfecting the aircraft will be done after each flight.
"This launch comes at a time of uncertainty," says EasyJet Portugal's director general, José Lopes, – adding that the airline "will continue to monitor demand trends and the various restrictions in the market" so that it can "gradually adjust its offer" of routes.
As EsayJets start flying again from Portugal, it is now possible for visitors to come out their country, Portugal's airports offer routes with France, the United Kingdom, Switzerland, Germany, Luxembourg and Italy.
For Portugal and its tourists, a summer holiday saved
For you as for us, Summer is synonymous with travel, escapade or and tourism. And many people want to enjoy their summer.
A situation that EasyJets Portugal news  is well welcomed: "Today we recover 80% of our routes and bring to our passengers 2/3 of our crew. We couldn't be happier because we are going to travel on most of our routes throughout Europe, which means that customers can still reach their chosen destination for this year's summer vacation," adds José Lopes.
As a result EasyJets resumes 51 routes from Portugal, if you want to come to Portugal, you now fix a Portugal visa appointment in order to  apply for Portugal visa, you can find all the information on our website.