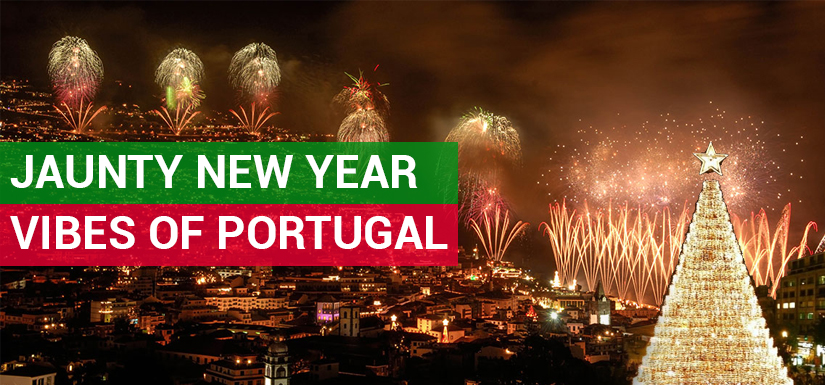 Portugal is distinguished for its varied geographical locations & charismatic beaches. From verdant blooming mountains to medieval farmland villages, from traditional Port Wine to delicious custard tarts, this seraphic destination of Europe has so much up its sleeve than one can ever dream of. No wonder tourism in Portugal has been sailing on a wave of triumph.
Just like any other country, Portugal has its own unique way of celebrating forthcoming New Year. The plethora of iconic venues of Portuguese capital offer unique experiences & environment for every preference ranging from a buoyant celebration at Alentejo or Douro to fiestas in Lisbon or Porto.
New Year is a great time to explore Portugal cities & savor their irresistible charm. People from all over the world are looking for ways to get a Visa for Portugal to celebrate New Year in Portugal. Apply for Portugal visa online with us by paying nominal Portugal Visa fees & celebrate New Year's Eve in a unique way with your beloved.
We have hand-picked some of the prime activities that you shouldn't miss while celebrating New Year in Portugal:
1. Unforgettable New Year's Eve Gala at Madeira: New Year's Eve is round the corner & Madeira's weather is enticing travel enthusiasts from around the globe to escape in the vibrancy of its night-time festivities. You can witness amazing fireworks display of Funchal on New Year's Eve or relish authentic Portugal cuisines from local restaurants or bars. It is advisable to book flights to Portugal in advance so as to avoid the stress of a last minute booking. Contact us at Portugal visa online services & we will get things materialized for you.
2. Join the Traditional Portuguese Way of Celebrating New Year's Eve: Portuguese observe an iconic tradition of eating twelve raisins coupled with sparkling wine, one at each stroke of mid-night. Each raisin represents a month of the forthcoming year. Portuguese make a wish as they swallow down each raisin. On New Year's Eve grab this opportunity to blend with the locals as you wash down your midnight snack with a glass of champagne & do not forget to make-a-wish as you devour each raisin.
You can also relish the traditional Portuguese cake, Bolo-Rei, which is prominently consumed by locals from 25th December to 6th January. This scrumptious cake is a ring of brioche pastry filled & topped with dried & crystalline fruit. People are applying for Portugal visa online to celebrate New Year in a traditional Portuguese way.
3. Dance along the Streets of Porto & Lisbon: Porto is renowned for exuberant free concerts in the main streets & squares accompanied by a dazzling firework display by the river. You can witness innumerable people wandering along the Ribeira District & Avenida dos Aliados, dancing to the live outdoor music. Join the crowd at prime squares of the city to celebrate New Year's Eve in unique & amazing way.
As an alternative, you can join the giant New Year's celebration in Praça do Comércio (also known as Terreiro do Paço), one of the prime squares of the Portuguese capital, Lisbon. You can delight in the various live concerts & spectacular firework displays across the city.
The New Year Charms of Portugal are, however, not limited to galas or street dances. You can head to Algarve's region of Portugal and find a perfect place to have a beach party, take a cruise boat along the Douro River & explore some of the picturesque landmarks of the country or head to Peneda-Gerês and the Serra da Estrela mountains for the unique adventurous experience.
Grab a Portugal Visa online today by paying a nominal Portugal visa fees & head to this seraphic destination of Europe to celebrate New Year's Eve in an astounding way.